See this link for sauce that uses assorted chilies.
Chile Ají Amarillo
Ají Amarillo
(30000-50000 Scoville)
Since Amarillo is the Spanish word for yellow; and Ají is the term for chile in South America; this pepper is also appropriately known as the yellow chile.
The famous Peruvian chef Gastón Acurio named this medium spicy, fruity chile pepper the most important ingredient in Peruvian cooking. Aji amarillo is used in many classic Peruvian dishes, such as causa rellena and papa a la huancaína.

Aji amarillo is also used in many sauces, where it adds a bright complex flavor as well as its distinctive yellow/orange color
Ancho
Ancho peppers (1000 - 2000 Scoville)
Ancho peppers are the dried version of ripe red Poblano. Their flavor is somewhat sweet and somewhat raisin-like, with medium heat.
Mulato (2500 - 3000 Scoville)
Poblano peppers left to ripen to a rich brown color before being dried produce the Mulato. Mulato have complex notes of coffee, chocolate, and licorice with undertones of cherry and tobacco.
Guajillo Chile (2,500 and 4,000 Scoville)
In Mexico, this chile is almost as popular as the Ancho as far a use. It has a tangy, pleasantly sharp taste with hints of berry and pine.
Pasilla chili pepper
(250-3999 Scoville)
Pasilla or "little raisin" properly refers to the dried chilaca pepper. The chilaca; when fresh; is also known as pasilla bajio; or as the chile negro or ""Mexican negro"" because; while it starts off dark green; it ends up dark brown. It typically grows from 8 to 10 inches long."

Puya Chile (Scoville 5,000 to 8,000)
The Puya chile is a type of chile, which resembles the Guajillo chile, but it is found in a smaller and it has a more intense and hotter taste, with a fruity flavor. The Puya chile is used for pizza toppings, pasta fillings, with various meat dishes, especially pork or lamb. The name 'Puya' was derived from the
Mapuche Indian
(Chile) word meaning "point".
Chipotle Chile (2,500 - 8,000 Scoville)
Chipotle chilies originated in Mexico as a way to preserve jalapeno peppers. These flavorful chilies are slowly smoked over a natural wood fire until they are infused with an incredible smoky flavor and are completely dried. The come in two varieties: the first is made from green immature chilies and the second from red ripe (Morita) which are the hotter.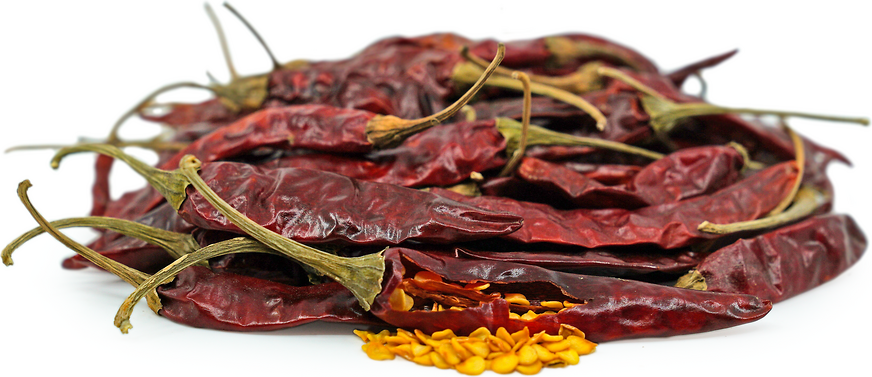 Arbor Peppers (Scoville 15,000 and 30,000)
The Chile de árbol (Spanish for
tree chili
) is a small and potent Mexican chili pepper also known as
bird's beak chile
and
rat's tail chile
. This pepper is on par with Cayenne pepper.
Casabel
Cascabel Chili Peppers

(Scoville 1000-3000)
The Cascabel Chile is grown in several areas of Mexico. It is small and round; 2-3 cm in diameter; and matures to a deep red. Aka Bola or Bell Chile.
Jalapeno chili pepper

(Scoville 2500-8000)
The world's most popular chili pepper! Often used for nachos.
Harvested when they are green or red if allowed to ripen; about 4-6 inches long.
A chipotle is a smoked jalapeno chili pepper. By rating, it heat varies more than three to 1, but in my experience, hot areas produce much hotter peppers and cold areas rather whimpy peppers.
Serrano pepper

(Scoville 5000-23000)
A smaller version of the jalapeno; similar in color; but smaller; about 1 to 2 inches long; 1/2 inch wide.
Dark green to redish in color.
Peruvian
Ají Panca (
Scoville 500)
Aji Panca is a type of mild chilli pepper that is commonly grown in Peru, and frequently used in Peruvian cuisine. It is dark red, mild pepper with a smokey, fruity taste.
Aji Panca is a type of mild chilli pepper that is commonly grown in Peru, and frequently used in Peruvian cuisine. It is dark red, mild pepper with a smokey, fruity taste.